Why Rosemont Real Estate?
At Rosemont, we recognize that the ever-changing landscape of the world we live in and
maintaining a dynamic approach with the offerings we provide to our new and existing client is key. Keeping our finger on the pulse, we are proud to extent suite of ancillary services with being a fully registered brokerage, we can expertly assist you with finding the best investment or new home. With a tailored focus on real time insights and clear objectives for our clients.


Back in 2020, the property market began to build momentum, launching dozens of off plan developments across the UAE, allowing residences and international buyers avail of payment plan options yielding lucrative investment opportunities as well as new homes for families to live in. It's safe to say, it isn't showing signs of slowing down anytime soon with new green urban communities and Dubai hot spots being launched consistently.


With the strong vision of D33, Dubai 2040 Urban Masterplan and post pandemic growth, Dubai has become not just a holiday destination but a long-term home for professionals and families
alike, who desire safety, a dynamic paced economic hub of opportunity and world renowned
hospitals, schools, and work/life balance. Its population has doubled in just over a decade and continues to grow steadily and is expected to reach 5.8% by 2040.


Our experienced sales team are committed to building strong long term client relationships
based on trust, transparency, and open communication with emphasis on expert guidance and personalised service throughout the entire process. We have established unique relationships with all the major developers, which allows us to offer our clients the best investment opportunities and incentives.
What sets us apart? (USP)
Our core business as a global independent corporate services provider is to execute our services with integrity along with high energy solutions with focus on exceptional client experience. Furthermore, we are passionate about contributing positively towards Dubai's economic growth through real estate and enterprise both intricately intertwined and act as a vital catalyst for the nation's sustainable economic prosperity.
We are one of very few independent corporate service providers that can support you identifying your real estate opportunities as well as structuring it in the best way possible, whether it be legacy planning, or mitigating sharia law through the use of corporate vehicles:
      • SPV (special purpose vehicles) holding companies
      • Foundations
      • Succession planning
      • Asset protection/management
What are the benefits of holding your property through your entity/registered jurisdictions:
      • Tax advantages-when incorporated in designated zones, tax exemptions may apply.
      • Privacy- with the holding company as the legal owner, the company name will be included on the title deed and future transactions,                   protecting beneficial owners' identity.
      • Asset Protection – including inheritance and family offices planning. A UAE Holding company can be merged with a non-operational           .       structure including Foundations to keep real estate investments within the existing structure.
      • DIFC/ADGM both fall under British Common law
The purpose of implementing such structures by appointing a corporate entity as the owner of your property which is owned by you or trustees, which can be protected by DIFC courts and/ or under an English common law jurisdiction is mitigate probate in the case of death of the owner and passing assets onto family members.
We recognise that the economic landscape of the UAE can be unfamiliar and challenging for new buyers/invertors entering the market. Therefore, we are committed to creating a unique eco system for our new and existing clients, providing a niche array of services which minimizes having to many interactions with several different brokers and service providers. Clients save valuable time and energy dealing with our trusted and relatable team, giving them stress free headspace to focus on what matters most-the success of their business.
What is an off-plan property in Dubai?
An off-plan property is an unconstructed property purchased directly from a developer. It's a property that is yet to be built or in most cases in the early stages of being built.

To purchase this type of property, we at Rosemont Real Estate have direct relations with all major and boutique developers, allowing us to have a greater non-bias overview of each development. Complemented with all relevant brochures and other marketing material to get a detailed visual on the project. The most popular payment plans usually are divided into percentages of the total value of the property to be paid on various stages of the duration until handover.

To secure the purchase, a 5%-20% down payment of the properties is required and a signing of a SPA (Sales Purchase Agreement). Each project has its own unique payment plans that vary depending on each stage of the construction schedule including post payment plans.

A typical example would be a 70:30 payment plan, you are required to pay 70% of the total value of the property in regular installments until handover and the rest 30% on completion.
Below is an example of a typical payment plan that developers will offer to investors/buyers when launching a new project.

Below illustrates a typical payment plan breakdown that a developer may offer: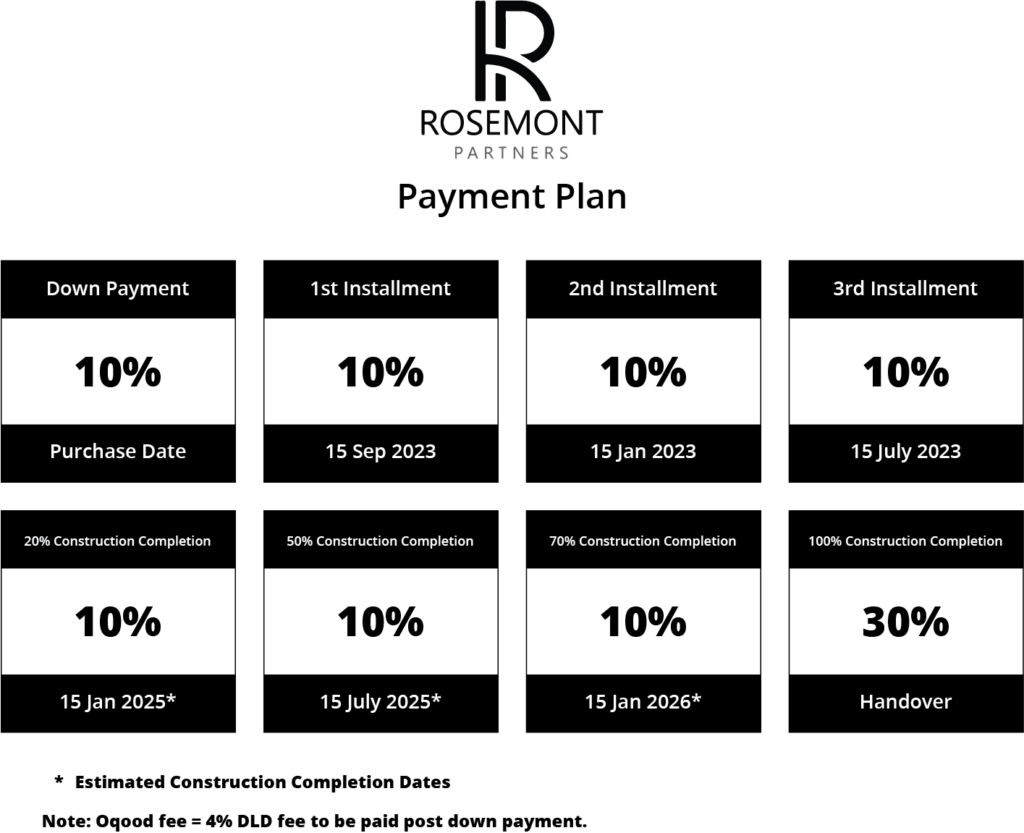 The advantages of buying off-plan property in Dubai:
Savings: When buying an off-plan property, it allows you as the investor to purchase a property at its earliest and lowest price. When the buyer is quick of the mark and well informed, it allows for the most desirable units available in that development. Which optimizes the chances of gaining the maximum return on their investment.

Selling: before completion: If the market is trending upwards or an investor drops out of a property, its common that the payment plan can be acquired from the developer at the current market value. Also, investors can sell off their off-plan property prior to a project's completion.

Brand New: Off-plan properties are bought usually prior to or during construction, therefore depending the type of property, you will have a choice in the decision making on how the interior and layout is finished including quality built in appliances. Along with a low initial down payment to secure the property.


At Rosemont, we strive to become your one stop can create a bespoke dual plan, tailored to your requirements combining your property investment opportunities with the best suited holding structure and Jurisdiction. These include JAFZA offshore, RAKICC, DMCC, DIFC and ADGM. By taking the time to understand your goals, we can create a custom roadmap that aligns with your vision.

Assured that your business is in good standings with all your corporate governance and secretarial requirements. When you decide to use Rosemont Real Estate, you are gaining a dedicated team who will provide you with all the property market and structuring advice, to the implementation of your private SPV to own your property portfolio in the UAE.

Everything under one roof. Forgive the pun!